literally Temple of Glass, is a famous temple in Haridwar, built by Swami Vasudev Ji maharaj. The construction began sometime around 1965
The Sheesh Mahal Mandir (Mirror Palace) is the most famous and beautiful part of Haridwar.Sheesh Mahal Mandir is part of the lovely Shri Ram Mandir. What makes this place so special is its unique construction. The walls and ceilings of the hall are beautifully covered with mirrors, which would reflect any splash of beam, so that it light up the hall flagrantly.
Mandir is specially designed with the glass imported. The mirrors on the walls and ceilings have been carved with beautiful designs that reflect even a small ray of light for providing natural light to the entire hall.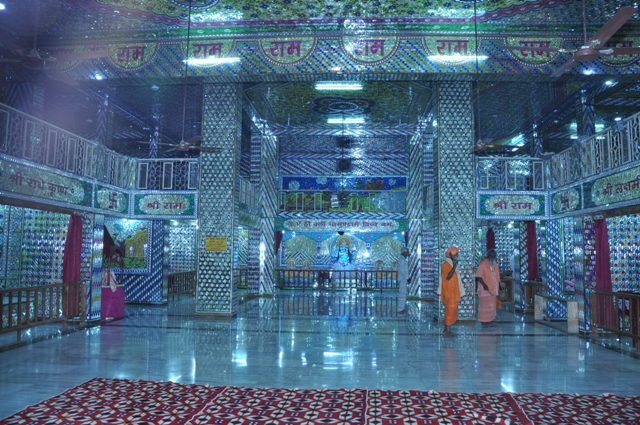 Sheesh Mahal Mandir is a famous hall of mirrors situated in Haridwar. The main attraction of Sheesh Mahal is its integral part of the Shri Ram Mandir, it has been uniquely constructed by decorating the ceilings and walls of the hall with mirrors, which reflect light rays. This reflection in turn lights up the entire hall inside the Shri Ram Mandir.
The Walls and ceiling of this hall is carved with beautiful paintings and flowers and that too made with pure glass. The reason behind why this hall was made by glass because in ancient days the queen was not allowed to sleep in open air but she loved to see the stars shining. So the king ordered his architects to make something which could solve the purpose. The most stunning thing about this hall is that if someone burns two candles, then the reflection converts that small light into thousand of stars.