Ram Katha is the Hindu epic poem, which percolates through the mind and soul and purges them from any kind of ills. It was the pious occasion when Shri Vasudev AshramTrust Samiti felicitated the crowd of devotes with his divine presence and enchanted the complete Ram Katha in Hindi.
The Ram devotees looked completely imbued in the Shree Ram Katha, and they listened carefully to the enchantments uttered by the Shri Vasudev AshramTrust Samiti in pure Hindi dialect. It was a memorable event where mind was in unison with the almighty, and heart was filled by revered thoughts. The popular Ram Chandra Katha was uttered by Thakur ji in his orphic tone, and every part of shaloka was recited with firmness to the god – Rama, and also Sita and Laxmana. Shri Vasudev Ashram recited the complete poem with incantation backed by light wonderful tones.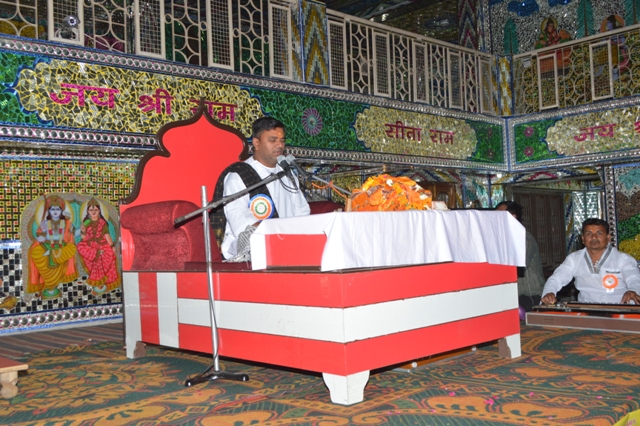 Listening to Ram Katha in Hindi the devotees come in line with the principles of life and pledged that they follow the principles all through their life and lead the life full of esteem piousness and brotherhood. Listening to Shree Ram Katha with open heart and mind concentration make the devotees feel light hearted and takes him close to the god, the almighty –the Vishnu.
Shree Ram Katha is also seen as the tale of eternal love and unity and brotherhood. Listeners who listen to the discourse and the incantations get the lesson of love, eternity and brotherhood. The devotees of Shree Ram were filled with love and charm as they listened to Ram Katha with full devotion and fervor.
King Rama, seen as the true embodiment of Maryada Purushottam, took victory over the evils existing in the society remaining and performing within the limits of humanity. The devotees were elated by the recitations of Shri Vasudev Ashram of the Ramcharitamanas, written by Tulsidasa, born in the 16th century. Ramcharitamanas is written in the form of Dohas or Couplets comprising seven chapters - Bal Kand, Ayodhya Kand, Aranya Kand, Kiskindha Kand, Sundar Kand, Lanka Kand and Uttar Kand. Prior to these seven chapters.